Stranded Tinned Copper Wire - with High Temperature Highly Flexible Silicone Rubber Jacket
UL - CSA Class 1 Clean Room Rated
With an insulation rated at 450V/.001" of wall thickness: the 30 AWG has a voltage rating of 10KV DC. The AWG 4 size has a 42KV DC rating.

Excellent alternative and more flexible than PVC & PTFE jacketed wire.

Used in Aerospace, Solar Panel, Robotic, Medical, Oil & Gas Exploration, Wind Turbine and Welding applications.

Used by NASA's JPL for MSL Robot Arm (Mars Rover).

Multi-conductor and Flat Cable versions available.

Jacket is 65 Shore A durometer.

High tensile, bare copper and silver plated conductors available.

Available as a bulk wire or assembled with connectors.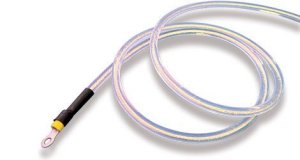 Part Number W-SR-1C