High Temperature Removable Blankets and Insulation
for Engines & Generators

For Exhaust System Components: Mufflers & Silencers,
Turbo-Chargers, Flanges & Pipes

· Meets MIL-I-24222, USCG 164.009, ASTM E84 and UL 2200.
Version meeting NRC 1.36 available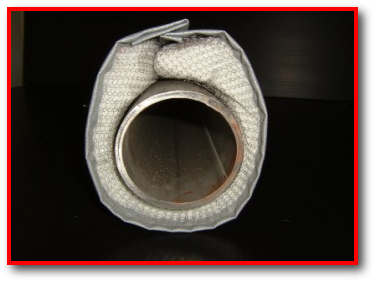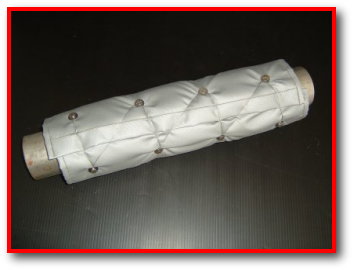 Stainless steel support mesh
Silicone Rubber Coated or Aluminized Fiberglass
outer fabric layer

Needled Insulation between outer layer of silicone fabric and inner layer of stainless steel mesh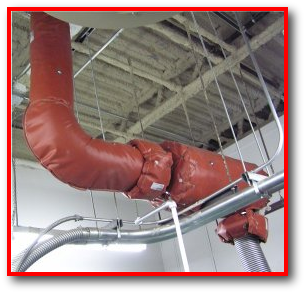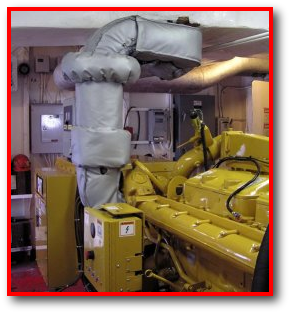 Marine Engine & Generator Exhaust System & Piping Covers


Industrial Generator Removable Exhaust Insulation Blankets & Covers
A
B
C
A
B
C
Custom fabricated removable insulation systems for engine and generator exhaust components such as mufflers, turbo-chargers and pipe feature high temperature capability, reduction of thermal radiation and convection within the engine room and sound reduction. Often used for marine powerplants & generators and stationary backup power systems for industrial, commercial and municipal installations.

A thick needled fiberglass or silica insulation is mechanically supported by a stainless steel or inconel mesh and an outer fabric of either silicone rubber coated fiberglass, aluminized fiberglass or silica. Fiberglass is suitable for most non-turbocharged reciprocating engines. Silica may be required for turbo-charged engines and is required for gas turbine engine applications.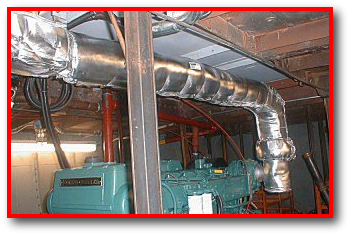 Removable blanket sections are assembled with either locking wire or spring clips with stainless hook fasteners or mushroom cap rivits mounted on the fabrics.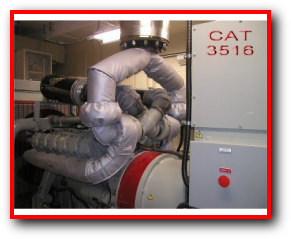 We maintain drawing sets for most major brands using standard configuration components. For models not on file all we need is a table of dimensions for the components you need covered, or a hand drawn sketch, or if available a CAD drawing or blueprint. A photo of the installation helps if available.

Fabrication time is typically 1 week to 2 weeks after receipt of your order.
The insulation material used meets MIL-I-24244 for low corrosiveness and can also be supplied to meet NRC 1.36 for nuclear installations.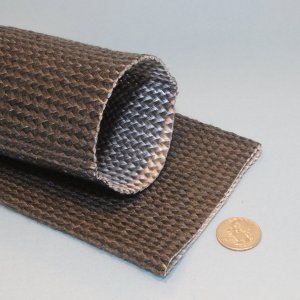 ---
For added thermal protection, knit basalt or braided fiberglass sleeve can be installed on engine and generator exhaust piping underneath removable insulation blankets.
· ExhaustSock™
Basalt Sleeve
· BlackMax™
Fiberglass Sleeve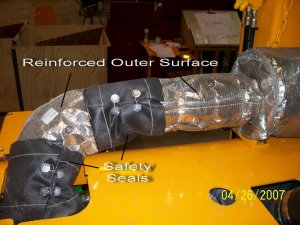 ExhaustGuardTM MineXT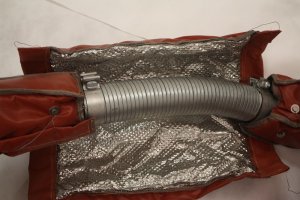 ExhaustGuardTM Mine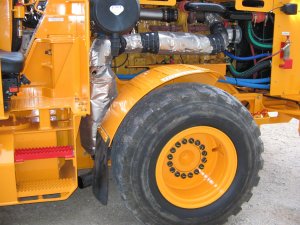 Mining equipment engine fire protection shields and blankets help prevent fluid leaks and spray from burst lines from catching fire.

These are similar to standard engine blanket systems except with inner liners covering the insulation and safety collars covering the blanket section gaps.


Share this page.....
02/18 Click Image
To Open
Catalog Page