Firesleeve with Zipper Closure
High Temperature, Heat Resistant and Thermal Insulating Severe Duty Molten
Splash Protection Sleeve
500°F / 260°C Continuous Exposure:
Higher Intermittent

ZipSleeveä high temperature, heat resistant and thermal insulation sleeve provides molten splash & weld splatter protection to wires, cables, hoses, tubes and pipes. ZipSleeveä provides a field installable protection sleeve utilizing a nomex zipper with brass teeth instead of Velcro closure strips.

Although Velcro sleeve such as our Shield VC provides excellent protection in most harsh environments, only ZipSleeve can endure the most demanding of liquid metal splash and heavy weld splatter. This sleeve also provides energy savings and personnel protection.

Available in standard sizes from 1" through 12" ID; custom sizes are available.
ZipSleeveä Severe Duty Sleeve
Withstands Molten Splash & Welding Splatter. Withstands 500°F / 260°C continuous exposure; 2200°F / 1205°C for periods up to 15 minutes and short flash excursions to 3000°F / 1650°C.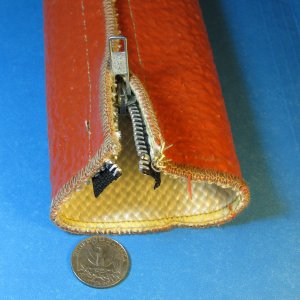 Part Number
S-FS-ZC


Share this page..... Click Image
To Open
Catalog Page


3/18

Molten metals simply slide off of the extra heavy duty coating of High-Temperature Silicone Rubber on all of these products (firesleeve), providing excellent burn-through protection.