Small Diameter Fiberglass Braided Fiberglass Insulation Sleeve for Wire Protection: NEMA Classified & meets MIL-Y-1140 (class C Form 1)
High Temperature Heat, Flame & Pyro Resistant and Thermal Insulating
Standard Wall and Thick Wall
Small Diameter E-Type Fiberglass Sleeve: Plain & Heat Treated. Left sleeve is standard wall thickness, right sleeve is heavy duty wall thickness
Small Diameter E-Type Fiberglass Sleeve: With Binders: colors available.
Part Number
S-EFG
FlameShieldä high temperature and heat resistant E-Type fiberglass sleeve is NEMA classified for secondary insulation over primary insulation for wire protection. MIL-Y-1140 (class C Form 1).

Fabricated from high quality yarns that will not burn and will withstand continuous exposure to temperatures of 1200°F / 648°C and intermittent use to 1742°F / 950°C. It provides excellent protection for industrial wires, cables, hoses (hydraulics), tube and pipes and also provides thermal insulation and personnel protection.

This high temperature sleeve / heat resistant sleeve resists most acids and alkalis and is unaffected by most bleaches and solvents. It is highly flexible and conformable.

Passes VW-1 flame testing and is UL recognized.

Available in standard wall and heavy wall thickness.

Available in Inside Diameter sizes of .020" through 2.0", 35 size steps, following AWG sizing.
Part Number
S-EFGH

03/18


Share this page..... Click Image
To Open
Catalog Page Click Image
To Open
Catalog Page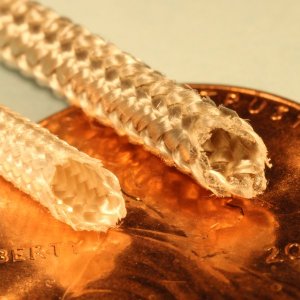 SIZE CHART Click Image
To Open
Size Chart