Ceramic Fiber Fabric & Cloth High Temperature Heat Resistant

High Temperature, Heat, Fire, Flame Resistant & Thermal Insulating
Ceramic Fiber
High-Temperature Fabric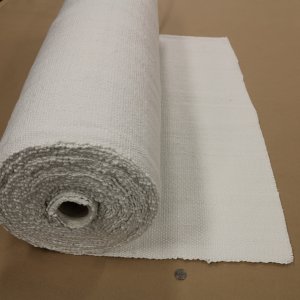 2000°F / 1093°C Continuous Exposure

Premium and Industrial grade CerMax™ Ceramic Fiber Extreme High Temperature Fabric is an excellent replacement to asbestos. Light-weight, flexible and good handling strength.

Provides low thermal conductivity and good dielectric strength and features excellent corrosion resistance.

This material is produced from an extremely pure alumino-silicate ceramic fiber non-woven material and can be used at 2000°F continuously with excursions to 3000°F / 1650°C.

Can be layered with other materials for enhanced insulation protection.

Available in 36" roll width, with either an inconel wire or glass filament insert.

Applications for these products include thermal insulation and/or protection of equipment such as piping, valves, engine components, turbine casings, as well as affording personnel protection from high temperature plant equipment.

Premium Grade Click Image
To Open
Catalog Page Click Image
To Open
Catalog Page


Industrial Grade

Share this page.....

12/18