 Ceramic Fiber Tadpole Tape Gasket Seal

High Temperature, Heat & Flame Resistant and Thermal Insulating
2000°F / 1093°C Continuous Exposure: Higher Intermittent

CerMaxä high temperature, heat & flame resistant and thermal insulating ceramic fiber tadpole tapes are fabricated with high quality type ceramic fiber that will not burn and will withstand continuous exposure to temperatures of 2000°F / 1093°C. Commonly used as a gasket or seal for access doors and gate valves and other applications.

This material resists most acids and alkalis and is unaffected by most bleaches and solvents. It is highly flexible and conformable.
Very High Temperature
Ceramic fiber Tadpole Tape
- Tadpole Tape Available Widths (Over-All Width): 1, 1 1/4, 1 1/2, 1 3/4, 2, 2 1/2 and 3".
- Tadpole Tape Bulb Diameters: 3/8, 1/2, 5/8, 3/4 and 1".
- Tadpole Tape Standard lengths: 50 and 100 feet.

Tadpole tapes are made to order, delivery is typically 3 to 10 business days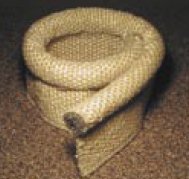 Part Number
TT-C-RC
TT-C-MC

Click Image
To Open
Catalog Page



Share this page.....


12/18