Braided Fiberglass Sleeve for Wire, Cable & Hose Protection
High Temperature Sleeve: Heat & Flame Resistant, Thermal Insulating
1200°F / 648°C Continuous Exposure: Higher Intermittent

DeltaGlass high temperature and heat resistant fiberglass sleeve is a braided fiberglass (fibreglass / glassfibre) sleeve, fabricated from high quality type E fiberglass that will not burn and will withstand continuous exposure to temperatures of 1200°F / 648°C. It provides excellent protection for industrial wires, cables, hoses (hydraulics), tube and pipes and also provides thermal insulation and personnel protection.

This is a general purpose industrial grade sleeve available in a Thin Wall version (1/16" wall thickness) and also a Thick Wall version (1/8").

This product is available By-The-Foot or in full spool lengths.

This high temperature sleeve / heat resistant sleeve resists most acids and alkalis and is unaffected by most bleaches and solvents. It is highly flexible and conformable.

High-Temperature
Braided Fiberglass Sleeve
Benefits of our High-Temperature Fiberglass Heat Protection Products

Fiberglass offers excellent heat resistance, retaining more than half of its room temperature tensile strength at 675°F / 357°C, and more than 25% at 875°F / 468°C. It begins to soften at 1500°F / 815°C and melts near 2050°F / 1121°C. Non-combustible and excellent thermal conductivity to dissipate hot spots; high resistance to chemicals and unaffected by UV light.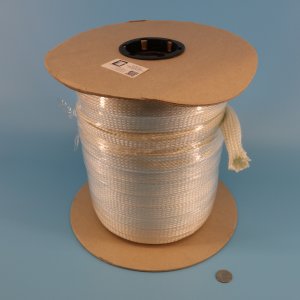 Part Number
S-FG-BI

Share this page.....
3/18 Click Image
To Open
Catalog Page