1000°F / 537°C Continuous Exposure: Higher Intermittent

This high temperature, heat and flame resistant graphite coated fiberglass rope will withstand temperatures of 1000°F / 537°C continuous exposure. The base high temperature and heat resistant knitted fiberglass rope is fabricated from high quality type E fiberglass that will not burn. The rope is then coated with graphite, adding lubrication.

This rope resists molten splash and welding splatter very well as it cannot stick to the graphite.
Graphite Coated Fiberglass Rope: Soft, Dense, Square
Very High Temperature, Heat & Flame Resistant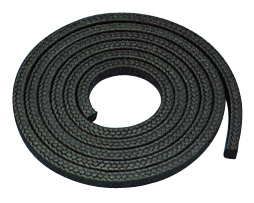 Soft Rope
---
---
Dense Rope
---
Square Braided Rope
Part Number
S-FG-GR-KS
Part Number
S-FG-GR-KD
Part Number
S-FG-GR-SQ


Share this page..... Click Image
To Open
Catalog Page Click Image
To Open
Catalog Page Click Image
To Open
Catalog Page


11/16