Braided Aramid Sleeve with EMI / FRI Shielding for Cable Protection
High Temperature, Heat & Flame Resistant & Thermal Insulating
302°F / 150°C Continuous Exposure:
Higher Intermittent

FlameShieldä high temperature and heat resistant aramid fiber expandable sleeve is fabricated from high quality yarns that will not burn and will withstand continuous exposure to temperatures of 302°F / 150°C. It provides excellent protection for industrial wires, cables, hoses (hydraulics), tube and pipes and also provides thermal insulation and personnel protection.

Interwoven are conductive filaments, giving this sleeve EMI and RFI shielding capability from 1 MHz to 1 GHz.

This high temperature sleeve / heat resistant sleeve resists most acids and alkalis and is unaffected by most bleaches and solvents. It is highly flexible and conformable.
High-Temperature
Braided Aramid Sleeve for EMI RFI Shielding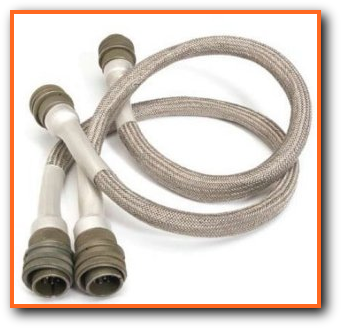 Share this page.....
03/18 Click Image
To Open
Catalog Page