---

Molten metals simply slide off of the extra heavy duty coating of High-Temperature Silicone Rubber on all of these products (firesleeve), providing excellent burn-through protection.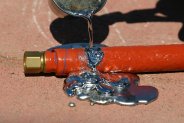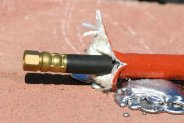 InsulDynamic™ Firesleeve with VELCRO® Brand Hook & Loop Closure
High Temperature, Heat, Flame, Fire & Pyro Resistant Jacket
Silicone Rubber Coated Fiberglass Sleeve with Velcro
InsulDynamic™ Firesleeve with Hook & Loop Closure
500°F / 260°C Continuous Exposure:
Higher Intermittent

InsulDynamicTM Firesleeve with VELCRO® Brand hook and loop closure is the perfect choice for protecting hydraulic hoses and lines, pneumatic lines, fuel & oil lines, brake lines, wires and cables from exposure to high temperature, heat, flame, fire, & pyro conditions. The extra thick special formulation of silicone rubber sheds molten metals, slag, welding splatter, electrical or grinding sparks and contamination. Also provides protection from ozone, UV and abrasion.

The standard colour is red-oxide. Black is available

We take our heavy duty braided substrate firesleeve and add hook & loop to result in a firesleeve than can be easily installed on long hose or cable runs, or on hose and cables that cannot be detached from their installation. This retrofit solution allows the sleeve to be added, or replaced conveniently - this makes for an easy to use Electic Arc Furnace cable cover (EAF cable cover).

The smallest standard I.D. is 1/2" and the largest standard I.D. is 12". Larger I.D.s are possible by fabricating multiple fabric widths together, with an almost limitless I.D. size being the result.
Withstands Molten Splash & Welding Splatter. Withstands 500°F / 260°C continuous exposure; 2200°F / 1205°C for periods up to 15 minutes and short flash excursions to 3000°F / 1650°C.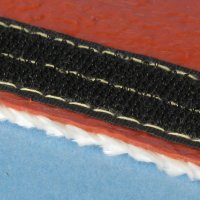 This photo shows the standard edge of the sleeve: some loose fibers of the fiberglass base material are always present at the very edge. This does not affect the performace of the sleeve and is an aesthetic concern only.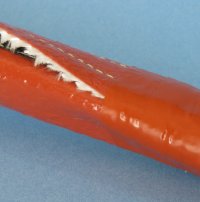 This photo shows the sleeve in place wrapped around a cable.

The overlapping edge of the right-hand section of the sleeve is sealed with a spiral wrap of end wrap tape, completely sealing the sleeve from exposure to contamination.

The end wrap tape can be easily removed if necessary, allowing the velcro sleeve to be opened or removed from its installation.

Part Number
S-FS-VCL


1/18
Share this page..... Click Image
To Open
Catalog Page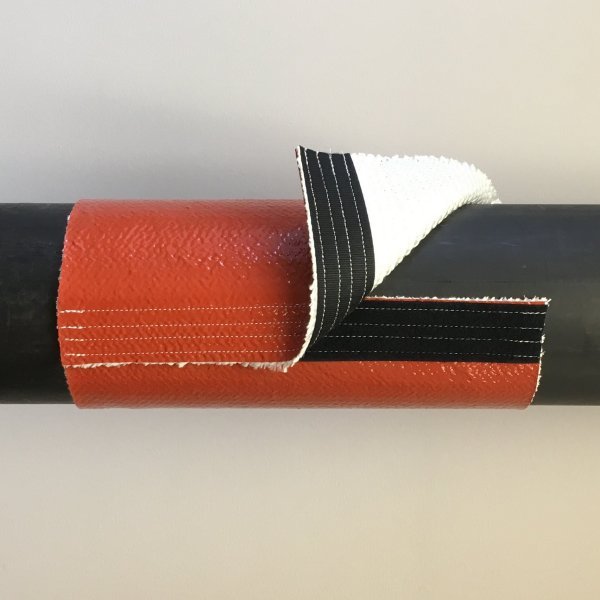 Sleeve Available in Red and Black