Fiberglass Sleeve for AWG Size Wire Protection: Acrylic Coated
High Temperature, Heat, Flame, Fire, Pyro Resistant
UL / CSA Approved - & NEMA Classified
311°F / 155°C Continuous Exposure:
Higher Intermittent

FlameShieldä AWG sized high temperature, heat, flame and fire resistant sleeve is ul/csa approved and NEMA classified for use as a primary sleeve for wire protection.

Grade C-3 passes VW-1 flame testing and is UL recognized. Grade A is available in flame retardant version.

Grade A also meets MIL-I-3190/3, Class 155.

Available in Inside Diameter sizes of .020" through 2.0", 35 size steps, following AWG sizing.


This sleeve is only available in full spool lengths shown in the catalog.
AWG size acrylic coated fiberglass sleeve for wire protection
Part Number
S-FG-ACR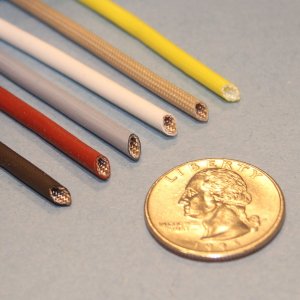 Share this page.....
03/18
Click Image
To Open
Catalog Page



SIZE CHART Click Image
To Open
Size Chart