375°F / 190°C Continuous Exposure

ScuffSleeveä Abrasion resistance sleeve for hoses and cables that are moved regularly or flex in operation can be provided by using ScuffSleeveä. The Velcro hook and loop closure allows for easy installation on hoses and cables that cannot be removed to add a continuous sleeve.

Also allows for easy retrofit, inspection or replacement.

Abrasion resistance sleeves with velcro are available in three versions:

HD Nylon, the same 1050 denier nylon with a 1.5oz urethane coating. Temperature range is -60°F to +180°F. Very good UV protection.

Nylon with a 1000 denier count, coated with 7oz urethane. Temperature range is
-60°F to +180°F. Very good UV protection.

PVC/Nylon is a heavy PVC coating over a 1000 denier base fabric. Tough protection for cables and hoses used on the ground, for construction equipment, drill rigs, etc. Temperature range is -20°F to +150°F. Very good UV protection.

These sleeves are sold in 25 foot increments, up to 150 feet continuous rolls.

Available in standard sizes; larger or custom sizes can be easily fabricated. Helps to organize and bundle hoses and cables and provides excellent abrasion, scuff, wear and blowout resistance.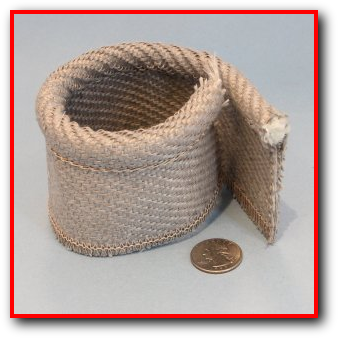 ScuffSleeve Hose & Cable Abrasion Sleeve
Abrasion Wear Protection Nylon Sleeve with Velcro Hook and Loop Closure
Part Number
S-N-APS-VCL To Open
Catalog Page


Click Image


Share this page.....

11/16