FlameShieldä Fire Retardant Impregnation Powder
for Curtains & Wallcoverings
"A" Class Fire Retardant Fabric Spray
"A" Class fire retardant fabric spray for curtains, fabric & upholstery meets CAN/ULC S109.

This is a bulk impregnation powder, which is mixed with water before use.

The resulting liquid can be used in a spray bottle to apply on a variety of natural and manmade fabrics, paper and untreated wood.

A one pound quantity of dry powder is mixed with 1 gallon of water to result in the correct mixture, and will cover approximately 100 square feet of material.

This fire and flame retardant product is available in standard 1/2, 1 & 5 pound quantities. Other packing available upon request.

Can also be used to meet the following additional specifications: NEN-EN-ISO 6941/6940; DIN 4102, class B1, B2; DIN 66082 / 84; BS 5438, 5867, 5852; NFP-92 503, class M1-M3.

Spray pump bottles available from retailers such as Walmart, Home Depot, Lowe's, etc. can be used to apply the mixture onto fabric.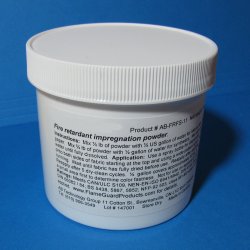 Click Image
To Open
Catalog Page



Share this page.....

02/18
Part Number
FR-FS-11