Mil-I-22444 Reinforced Mil Spec Limited Elongation Silicone Rubber Tapes
Mil-i-22444 Mil Spec Silicone Tape - Clear tape shows reinforcement layer - available in clear, red and black
· Resists moisture, oxygen,
UV, ozone and corona
· Conforms smoothly around
irregular forms
· No adhesive or sticky
residue like other tapes
· Flame retardant version meets
FAR 25.853
Insulation Tape, Electrical, Self Bonding, Silicone Rubber
Treated Bias Weave

FlameShieldä reinforced rectangular profile tapes meeting Mil-I-22444 specification are used for a variety of critical electrical wiring and cable splicing and protection jobs. Especially suited for aviation and marine environments, as well as outdoor weathering environments.

MIL-I-22444 tape has no adhesive, but sticks to itself (self-fuses or self amalgamating) when stretched and wrapped onto itself. The tapes starts curing within minutes, and after several hours cannot be unwound or removed without using a sharp knife or blade. This tape makes a waterproof, weatherproof and air tight protection.

MIL-I-22444 tape is available in many colors, but clear, oxide-red and black are the most common. The tape has a built-in fiberglass sinusoidal reinforcement limiting the amount of elongation (either a maximum of 15% or 25%).

Tapes meeting Mil-I-22444 provide superior electrical insulation with a minimum of 350 volts per mil (.001") of tape thickness at 365°F / 180°C. A 20mil tape therefore provides 7000 volts per wrap of insulation value.

This tape is also used to wrap hydraulic connections and to make vibration resistant bumpers and spacers for wiring, cable, hose, pipes and lines. This tape is used to wrap and hold insulation in place on hot air ducts.

Our Mil-I-22444 tapes meets the following OEM specifications:

· DMS-2186 Type I
· EMD/EMS 2074
· General Dynamics P5189 & 5-00857
· General Electric A50A493-C/D & A50E112
· GE A40493
· GE A50E112 (15%)
· AE 26495-001
· ASNA 5107
· Grumman GT353V
· RMS315 Type I
· Simmonds 151274 (black)
· IBM 6084744
· RL6000SA (25%)
· RL6000SB (15%)
· NSN 5970-01-325-8971 (25%)
· NSN 5970-00-841-1172 (15%)


· Equivalent to Part Number: 58609, 58607, 58613, 58611, 58615, 58617, 58621, 58619,
SB01015, SA01015, SB00520, SA00520, SB01020, SA01020, SB01050, SA01050

5970-00-446-8928 Oxide-red, .5" width, .018"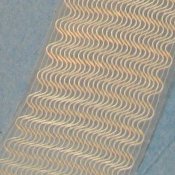 Close up view of tape showing sinusoidal reinforcement fiberglass substrate. The substrate is not visible when tape is black or oxide-red.

3/18


Share this page..... Click Image
To Open
Catalog Page