HHP31 High Temperature Fabric:
Heat & Flame Resistant Asbestos Replacement
This high temperature fabric is a non-asbestos replacement fabric, made from high temperature, heat & flame resistant fiberglass fabric with an interwoven stainless steel wire which accounts for 10% of the fabric's weight. If you look carefully at the photo, you can see the stainless wires.

Each yarn is composed of three fiberglass filaments, interwoven with 2 wires, each 304 stainless steel (0.0045" diameter), all twisted together.

This provides a very dense and strong very high temperature wire mesh / fiberglass fabric with excellent tensile strength of 225 lbs Warp and 125 lbs Fill.

This material resists most acids and alkalis and is unaffected by most bleaches and solvents. It is highly flexible and conformable.
HHP31 High Temperature Fabric.
Non-Asbestos Replacement Fabric
Applications for this fabric is as a gasket and as thermal shields providing high EMI/RFI shielding.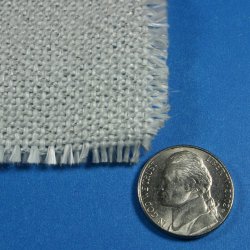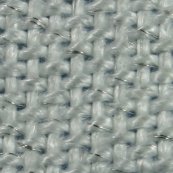 Close-up showing
wire re-enforcement


Share this page..... Click Image
To Open
Catalog Page



03/18