Aluminized PET film Coated Fiberglass Heat Reflecting Tape
with Adhesive Coating
High Temperature Tape: Heat & Flame Resistant & Radiant Heat Reflective
1000°F / 537°C Peak Exposure:
450°F / 232°C Continuous

This high temperature tape is heat resistant and heat reflective. It includes self adhesive on the back side, with a backing paper protecting the adhesive.

The highly polished aluminized PET film coating reflects radiant heat and is an excellent choice for the protection of industrial wires, cables, hoses (hydraulics), pipes, tubing and equipment that is in close proximity to intense radiant heat sources such as super-hot metal slabs, liquid and molten metals or glass, open flame/plasma, engine exhaust manifolds, and for reflecting solar glint..

For applications involving regular repeated movement, such as a bellows or cable track system, we offer and recommend an "AMA", or Aluminum-Mylar-Aluminum coated fiberglass. The aluminum coated Mylar withstands repeated flexing better than foil coated fabrics.

Also available is an AMA-F-SR fabric, which is AMA on one side of a Fiberglass base cloth, the the other side being Silicone Rubber coated.

These heat reflective materials generally reflect 95 to 98% of the infrared heat striking its surface.

Heat reflecting tapes are available in sizes from 1/2" through 40" wide, and is available from the Foil coated Fiberglass from stock. Tapes from the other available materials are by quotation.
High Temperature Tape: Radiant Heat Reflective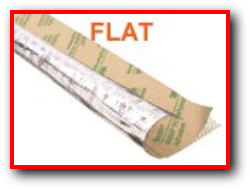 Part Number
T-AL-FG-STA Click Image
To Open
Catalog Page



Share this page.....

12/18