Graphite Coated Braided Fiberglass Sleeve:
High Temperature, Heat & Flame Resistant
1100°F / 593°C Continuous Exposure:
Higher Intermittent

This high temperature, heat and flame resistant and thermal insulating graphite coated braided fiberglass sleeve will withstand temperatures of 1100°F / 593°C continuous exposure. The base high temperature and heat resistant braided fiberglass sleeving is fabricated from high quality type E fiberglass that will not burn. The sleeve is then coated with graphite, adding lubrication and additional protection from splatter and molten metal attachment. This high temperature insulation sleeve protects wire, cable, hose, pipe and tubing, along with providing energy savings and personnel protection.

This sleeve resists molten splash and welding splatter very well as it cannot stick to the graphite.
Very High-Temperature Graphite
Coated Braided Fiberglass Sleeve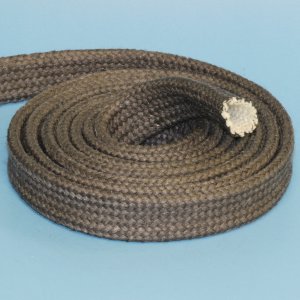 Technical Specifications
Fiber Type: E Glass
Specific Gravity: 2.54-2.69
Breaking Tenacity: 1.71 gf/TEX. Std. 1.71 gf/TEX Wet
Effect of Heat: Will not burn; Retains 75% tensile at 343°C; Softens at 732-877°C; Melts at 1121-1182°C
Tensile Strength: 450,000-500,000 psi.
Effect of Acids and Alkalis; Resistance to acids is fair. Good resistance to most alkalis.
Breaking Elongation: 4.81% Std. 4.81% Wet
Elastic Recovery: 100%
Effect of Bleaches and Solvents: Unaffected
Average Stiffness: 2824.3 cn/TEX
Benefits of our High-Temperature Fiberglass Heat Protection Products

Fiberglass offers excellent heat resistance, retaining more than half of its room temperature tensile strength at 675°F / 357°C, and more than 25% at 875°F / 468°C. It begins to soften at 1500°F / 815°C and melts near 2050°F / 1121°C. Non-combustible and excellent thermal conductivity to dissipate hot spots; high resistance to chemicals and unaffected by UV light.



03/18 Click Image
To Open
Catalog Page


Share this page.....