Molten metals simply slide off of the extra heavy duty coating of High-Temperature Silicone Rubber on all of these products (firesleeve), providing excellent burn-through protection.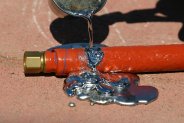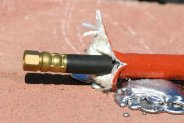 ---
Firesleeve: High Temperature, Heat, Flame, Fire, Pyro Resistant Silicone Rubber Coated Fiberglass Sleeve & Jacket:
500°F / 260°C Continuous Exposure:
Higher Intermittent

FlameShieldTM Firesleeve (sometimes spelled fire sleeve or fire-sleeve) is the perfect sleeve and jacket choice for protecting industrial hydraulic hoses and lines, pneumatic lines, fuel & oil lines, brake lines, wires and cables from exposure to high temperature, heat, flame, fire and pyro exposure. The extra thick special formulation of silicone rubber on our firesleeve sheds molten metals, slag, welding splatter, electrical or grinding sparks and contamination. Firesleeve also provides protection from ozone, UV and abrasion.

The standard colour of firesleeve is red-oxide, but custom colours such as blue, grey, black, yellow and green are available; great for identifying hose and cable use when the sleeve is installed. Firesleeve is THE standard high-temperature and molten splash pyro protection jacket and sleeve for hose & cable.

Firesleeve is normally supplied in 50 & 100 foot lengths, but custom by-the-foot lengths are also available.
High Temperature Heat Flame Fire Resistant Firesleeve
The industrial grade of Firesleeve is fabricated from a knitted fiberglass yarn substrate, while the aviation grade Firesleeve is fabricated from a thicker and denser braided fiberglass yarn (Aviation grade Firesleeve meets AS1072, allowing qualified hose assemblies to pass testing to AS1055D specifications). For further information on the Aerospace grade of Firesleeve
Click Here
.
Industrial Firesleeve is available in sizes ranging from 0.25" Inside Diameter through 5" I.D. in 27 size steps.
Firesleeve fire & pyro resistant sleeve and jacket withstands molten splash & welding splatter. Withstands 500°F / 260°C continuous exposure; 2200°F / 1205°C for periods up to 15 minutes and short flash excursions to 3000°F / 1650°C.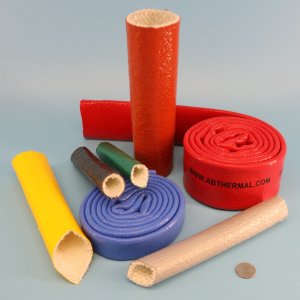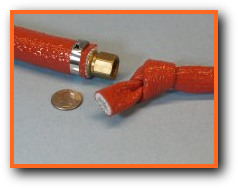 Firesleeve is highly flexible and conformable.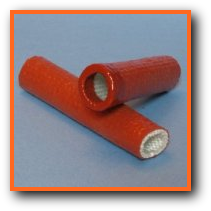 Firesleeve ends can be dipped in our SleeveSeal liquid silicone rubber end seal to prevent wicking of liquids and contamination.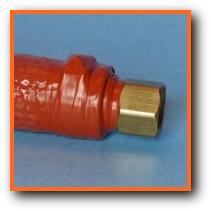 SleeveSeal tape can be used to seal the ends of sleeve at the connector for a watertight seal. Also protects the clamp if installed.

·
Part Number
S-FS & S-FSHD
Substrate Technical Specifications
Fiber Type: E Glass
Specific Gravity: 2.54-2.69
Breaking Tenacity: 1.71 gf/TEX. Std. 1.71 gf/TEX Wet
Effect of Heat: Will not burn; Retains 75% tensile at 343°C; Softens at 732-877°C; Melts at 1121-1182°C
Tensile Strength: 450,000-500,000 psi.
Effect of Acids and Alkalis; Resistance to acids is fair. Good resistance to most alkalis.
Breaking Elongation: 4.81% Std. 4.81% Wet
Elastic Recovery: 100%
Effect of Bleaches and Solvents: Unaffected
Average Stiffness: 2824.3 cn/TEX
Silicone Rubber Technical Specifications
Durometer, Shore A: Initial; 35 Aged 240 hours @ 200°C; 45
Tensile Strength (psi): Initial; 875 Aged 240 hours @ 200°C; 800
Elongation %: Initial; 500 Aged 240 hours @ 200°C; 200
Flammability, UL94; V-1
Dielectric Strength (volts/mil); 485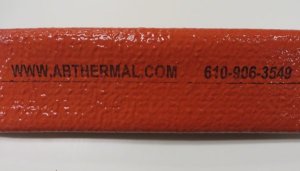 Firesleeve can be printed with identification, trademarks, warnings, etc.


3/18 Share this page..... Click Image
To Open
Catalog Page