1200°F / 648°C Continuous - Premium Grade

This premium grade high temperature and heat resistant woven fiberglass cloth is heat treated to remove organics, set the weave dimensionally and reduce fray and loose fibers. Meets MIL-C-20079 (type I, Class 9) and US Coast Guard 164.009.

Used as a marine lagging fabric and in nuclear applications as a covering for insulation and board.

Designed for continuous operation at 1200°F / 648°C

Fabric is available in two weights; 8.5 oz/sq/yd (.018" thick) and 18.0 oz/sq/yd (.032" thick). Roll width is available as 40 and 60 inches.

This fabric is also available with a self-adhesive backing. The adhesive is acrylic based, and will burn-off or vaporize at temperatures above 400°F. If prolonged use of the self-adhesive fabric above 400°F is desired, then alternate securing methods such as fasteners, wire or clamps should be used. Personnel should avoid inhaling fumes from the PSA.

Heat Cleaned Fiberglass Fabric meeting US Coast Guard 164.009
and MIL-C-20079 (Type 1, Class 9)
High Temperature, Heat Resistant
Premium Fiberglass Heat Cleaned Fabric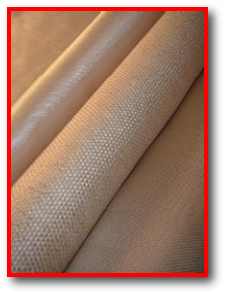 Share this page.....
03/18 Click Image
To Open
Catalog Page