Woven Silica Tape
Extreme High Temperature, Heat & Flame Resistant
· Easy to wrap around radius without buckling, edge is salvaged.
· Available in 1/16", 1/8", 1/4"
· 1", 1 1/2", 2", 3", & 4" widths.
· Standard 100 foot rolls: 25 and 50 foot rolls may be available.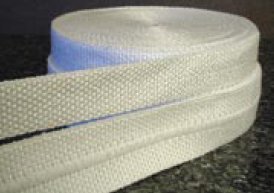 Part Number
T-S-XT-W
2000°F / 1093°C Continuous Exposure:
Higher Intermittent

InSilMax XT is an extreme high temperature, heat and flame resistant silica tape, and is an excellent alternative to asbestos and ceramic based textiles. This high temperature tape can be used to wrap and protect wires, cables, hoses, pipes and tubes, and also provides energy savings and personnel protection.

Also used as a gasket tape on flanges and doors for ovens, furnaces and other high temperature applications. Available in plain and drop-warp (bolt-hole) Ladder-Tape style.



3/18


Share this page..... Click Image
To Open
Catalog Page