Saturated Braided Fiberglass Sleeve for Wire, Cable, Hose, Tube & Pipe Protection
High Temperature, Heat & Flame Resistant and Thermal Insulating

1000°F / 537°C Continuous Exposure:
Higher Intermittent

This high temperature, heat & flame resistant and thermal insulating braided fiberglass sleeve is fabricated from high quality type E fiberglass that will not burn and will withstand continuous exposure to temperatures of 1000°F / 520°C. This high temperature sleeve provides protection for industrial wires, cables, hoses (hydraulics), piping and tubing. Provides thermal insulation and personnel protection.

This material resists most acids and alkalis and is unaffected by most bleaches and solvents. It is highly flexible and conformable.

The base fiber is manufactured to the specifications of ASTM D-578, ASTM committee D13, and subcommittee D13.18.

An acrylic saturant is added to the braided sleeve, which adds rigidity and abrasive strength & also reduces end-fray. The added rigidity results in a sleeve that is easy to apply over long lengths of hose or cable. Another feature of this product is the large braid angle, which allows for significant expansion factor of the sleeve if necessary. The acrylic will smoke off if heated above 450F.

This sleeve is used for protection of wiring in appliances, electric and electronic devices and lighting fixtures.

The acrylic saturant provides anti-fray sleeve ends - which can be folded inward and rolled, creating a practical sleeve end to protect the entry of wires, lines, hoses and cables.
Benefits of our High-Temperature Fiberglass Heat Protection Products

Fiberglass offers excellent heat resistance, retaining more than half of its room temperature tensile strength at 675°F / 357°C, and more than 25% at 875°F / 468°C. It begins to soften at 1500°F / 815°C and melts near 2050°F / 1121°C. Non-combustible and excellent thermal conductivity to dissipate hot spots; high resistance to chemicals and unaffected by UV light.
Part Number
S-FG-BAS
Technical Specifications
Fiber Type: E Glass
Specific Gravity: 2.54-2.69
Breaking Tenacity: 1.71 gf/TEX. Std. 1.71 gf/TEX Wet
Effect of Heat: Will not burn; Retains 75% tensile at 343°C; Softens at 732-877°C; Melts at 1121-1182°C
Tensile Strength: 450,000-500,000 psi.
Effect of Acids and Alkalis; Resistance to acids is fair. Good resistance to most alkalis.
Breaking Elongation: 4.81% Std. 4.81% Wet
Elastic Recovery: 100%
Effect of Bleaches and Solvents: Unaffected
Average Stiffness: 2824.3 cn/TEX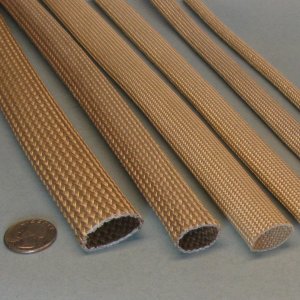 Share this page.....
3/18 Click Image

To Open
Catalog Page