PTFE Coated Acrylic Square Braided Rope:
High Temperature, Heat & Chemical Resistant
Available in sizes from 0.062" through 1.5" OD. Applications for this product include as a packing and stuffing for sealing shafts on pumps, valves and marine drive shafts.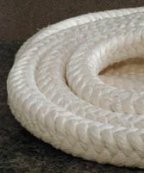 Part Number
R-A-PT-SQ
500°F / 260°C Continuous

This high-temperature rope is heat & chemical resistant PTFE coated acrylic rope offers the advantage of a non-asbestos material with a higher temperature range and with excellent resistance to almost all solvents, caustics and acids.

The base fiber is rated to 500°F / 260°C while the PTFE coating melting point is 620°F / 327°C.


Share this page..... Click Image
To Open
Catalog Page


3/18