VITON 231 Coated Fiberglass Sleeve & Jacket for
Wire Protection: UL / CSA Approved - Rated & NEMA Classified
High Temperature, Heat, Flame, Fire, Pyro Resistant
428°F / 220°C Continuous Exposure:
Higher Intermittent

FlameShieldä Viton® 231 coated fiberglass sleeve is designed as a primary insulation sleeve for protecting small diameter wire, cable, lines, hose, and pipe from high temperature, flame and environmental contamination. Recognized by UL / CSA for 220°C, 7000V service, and complies with VW-1 flammability requirements. Conforms to, and is listed on the QPL for MIL-I-3190/9. Available in 3 grades: NEMA Grade A-1, B-1 and C-1.

Extremely flexible and easily installed. Used in electrical apparatus as a primary or secondary wiring insulation. Suitable for use in silicone free requirement environments. Resistance to solvents, both aromatic and aliphatic; fuels, including JP-5; and oils, including Skydrol.

The inner braid is very fine and dense, and along with the precision Viton® 231 coating, this is the toughest cut and abrasion resistant flexible sleeve we have available for wire, cable and hose protection.

Also provides protection from ozone, UV and abrasion. This product is UL/CSA approved and used on a wide variety of equipment such as fixtures, appliances and motors for wiring protection.

This sleeve is available only in white, black and natural (dark tan).

This sleeve is only available in full spool lengths shown in the catalog.
Thin wall small diameter precision protection sleeve
Part Number
S-FG-VI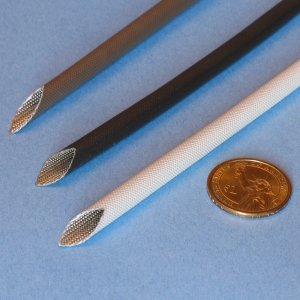 3/18

Share this page..... Click Image
To Open
Catalog Page