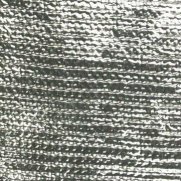 300°F / 149°C Continuous Standard Grade and
500°F / 260°C Continuous (600°F / 315°C Intermittent) High Temperature Grade

The base fiberglass material is partially heat treated to remove organics, set the weave dimensionally and reduce fray and loose fibers.

Provides protection from radiant heat. One side is coated with a 1 mil (.001") thickness aluminum foil. Reflects more than 95% of the radiant heat that contacts its surface. Excellent radiant heat protection from sources such as super-hot metal slabs, proximity to liquid metal, infrared heaters, open flame / plasma or engine exhaust manifolds.

Available in two temperature ratings based on type of laminating adhesive.

Used in marine and nuclear applications as a flange shield material due to its excellent vapor barrier and water/oil resistance.

Designed for long term continuous operation at 300°F / 149°C or 500°F / 260°C (intermittent 600°F / 315°C) this fabric will withstand short duration exposure up to 1115°F / 600°C. The aluminum coating melts at 1220°F / 660°C, however it does take some time for the aluminum to absorb enough heat to melt - thereby it can withstand short exposure to the higher temperatures.

Fabric weight is 19.5 oz/sq/yd. Roll width is 36, 48 and 60 inches..

This fabric is also available with a self-adhesive backing. The adhesive is acrylic based, and will burn-off or vaporize at temperatures above 400°F. If prolonged use of the self-adhesive fabric above 400°F is desired, then alternate securing methods such as fasteners, wire or clamps should be used. Personnel should avoid inhaling fumes from the PSA.

Radiant Heat Reflecting Aluminum Foil Coated Fiberglass Fabric / Cloth
High Temperature, Heat Resistant, Heat Reflective
;
Meets MIL-C-20079 (Type 1, Class 10) / MIL-I-24244 / USCG 164.009 / NRC Guide 1.36
Aluminum Coated Radiant
Heat Reflective Fiberglass Fabric
Part Number
F-FG-AL-MIL Click Image
To Open
Catalog Page



Share this page.....

12/18