Firesleeve End Cut Sealants: Liquid Silicone Rubber End-Seal Dip and Paste
High Temperature Heat Resistant & Meets Mil-A-46146
High-Temperature Uncured Silicone Rubber Sealant
and Liquid Seal-Dip
500°F / 260°C continuous rating with weld splatter / molten
metal splash protection
· High Temperature Sealant is our special formulation of high-temperature silicone
rubber, packaged into a convenient caulking tube, for use on mechanical joints,
as a potting compound; anywhere a high-temperature adhesive/sealant is
required. 2 grades: +260°C and +300°C continuous.

· Liquid Seal-Dipä is a special formulation of our high-temperature silicone
rubber which is a liquid until exposed to air, when it cures rapidly into a flexible
protective covering of silicone rubber. Perfect for protecting the ends of sleeve
and tape from fraying, or from contamination, and from wicking liquids such as
water, oil, hydraulic fluid, etc. Usually used as a dip for sleeve and rope.
Non corrosive and meets Mil-A-46146 as per NAVAIR 01-1A-20.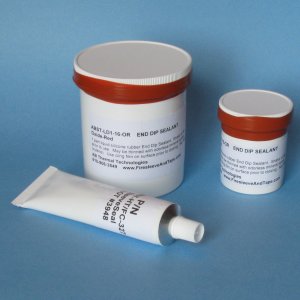 3/18
Share this page..... Click Image
To Open
Catalog Page