Very High Temperature, Heat, Flame & Fire Resistant Rock Fibre Fabric
1200°F / 648°C Continuous Exposure: Higher Intermittent

This high temperature, heat, flame, fire resistant rock fibre fabric will withstand temperatures of 1200°F / 648°C continuous exposure. This fabric is fabricated from processed basalt rock fibre that will not burn. .

This material resists most acids and alkalis and is unaffected by most bleaches and solvents. It is highly flexible and conformable.

Applications for this product include welding blankets and curtains, heat shields, etc.

Available in 5 weights/thicknesses and 40" or 60" widths. Roll length 50 yards.

Very High-Temperature
Rock Fibre Fabric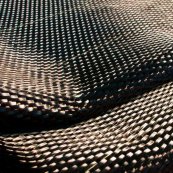 Share this page.....
3/18 Click Image

To Open
Catalog Page