Abrasion Protection Sleeve for Wire, Cable and Hose Protection


---
Brass / Copper Braided Sleeve
Stainless steel braided sleeve
Stainless steel mesh fabric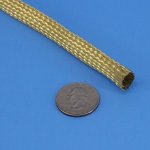 Brass and Tinned Copper Sleeve for wire, cable and hose protection

Stainless steel braided sleeve for wear and abrasion protection and for hydraulic hose blowout resistance
Stainless steel knit metal mesh fabric is used to support insulation materials in lagging systems but can be used to wrap lengths of wiring, cabling and hoses for abrasion protection.


Solid Stainless Steel Wall Flexible Sleeve
Provides unique protection of hose and cable, adds EMI/RFI protection.
02/18


Share this page.....

---
Stainless steel hollow knit sleeve
Stainless steel knit hollow sleeve for bulbs in tadpoles and wire, cable and hose protection

· Stainless Steel Hollow Knit Sleeve, Braided Sleeve, Solid Wall Flexible Sleeve, Mesh Fabric
· Brass Sleeve
· Tinned Copper Sleeve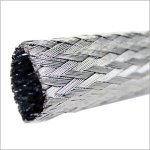 ---