Solid Wall Stainless Steel Flexible Sleeve:
High Temperature, Heat Resistant & Radiant Heat Reflective
FlameShieldä high temperature and heat resistant stainless steel flexible sleeve for the protection for industrial wires, cables, hoses (hydraulics), pipes, tubing and equipment that is in close proximity to intense radiant sources such as super-hot metal slabs, liquid and molten metals or glass, open flame/plasma or engine exhaust manifolds.

Available in sizes from 1/2" through 12" ID. Larger sizes are available under special order.

Annular corrugated construction provides the ability to easily flex and bend.

Excellent abrasion and molten metal splash Protection. EMI / RFI Shield.

Provides Blow-out protection for hydraulic hoses.

Provides rodent protection for burial cables and hoses.

Wires cables and hoses can be spiral wrapped with tapes prior to insertion for
insulation spacing to the sidewall.

Range of fittings and connection flanges available to terminate sleeve onto
metalwork, bulkheads, etc.

Available in 304, 316 & 321 Stainless Steel, Bronze, Monel, Inconel & Hastelloy.

Solid Wall Stainless Steel Flexible Protection Sleeve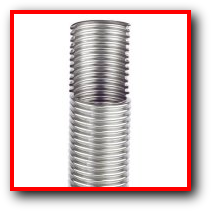 Part Number
S-SS


Share this page..... Click Image
To Open
Catalog Page


03/18