ExhaustGuardTM Mine and MineXT High Temperature Fire Prevention
Removable Blankets and Insulation Shields for Mining Equipment
such as Drills, Loaders & Multi-ton Trucks

For Exhaust System Components: Mufflers & Silencers, Turbo-Chargers, Flanges & Pipes

· Meets MIL-I-24222, ASTM E84 and UL 2200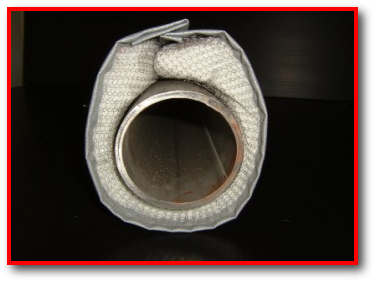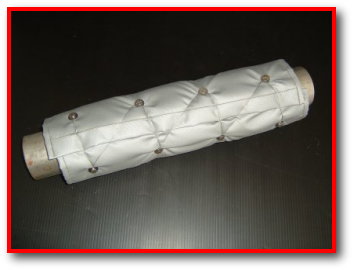 Stainless steel support mesh
Silicone Rubber Coated or Aluminized Fiberglass outer fabric layer

Needled Insulation between outer layer of silicone fabric and inner layer of stainless steel mesh


A
B
C
A
B
C
Analysis of mining fires from 1990 through 1999 showed there were 340 large mining equipment fires, resulting in 72 injuries and five fatalities. Many of the fires resulted in the loss of equipment and all posed potential or real risks to the operator. In 97 cases, the fires burned out of control, even after activation of the equipment fire suppression system, due to spraying of pressurized hydraulic fluid or fuel onto hot engine surfaces.

In other cases, even after engine shutoff, the fires re-ignited, fueled by the continued flow of flammable fluids remaining in the lines onto the hot engine surfaces. In many of the fires, flammable vapors evolved and penetrated the cab, violently igniting, forcing the operator to exit under very hazardous conditions.

Custom fabricated removable insulation systems for engine components such as mufflers, turbo-chargers and exhaust pipe runs feature high temperature capability, and a cool outer surface to reduce ignition of fuel and oils in the event of a leak or spray.

There are three versions of these fabricated blanket systems:
· ExhaustGuardTM Standard
Designed for thermal protection: improved combustion and exhaust flow and
reduced temperatures inside the engine room.

· ExhaustGuardTM Mine
Similar construction to the ExhaustGuardTM Standard but with an inner stainless
steel foil instead of stainless mesh to minimize absorption of fluids by the
insulation thereby improving fire prevention.

· ExhaustGuardTM MineXT
Same as the ExhaustGuardTM Mine XT, with the addition of a stainless
mesh covering the outer fabric layer to further add impact and damage
protection to the blanket for rough service environments such as mining.

· ExhaustGuardTM Mine Collar
Safety collars cover the joint area where two exhaust cover sections meet, providing
an extra safety layer to prevent fluids from entering the sections where the gap exists.


Removable blanket sections are assembled with either locking wire or spring clips with stainless hook fasteners or mushroom cap rivits mounted on the fabrics.
We maintain drawing sets for most major brands of equipment and can produce the correct sized shields and blankets from them.

If we do not have a drawing set on file, then we have a template you can use to submit the dimensions of the exhaust system.

Fabrication time is typically 1 week to 2 weeks after receipt of your order.
The insulation material used meets MIL-I-24244 for low corrosiveness and also meets
US Coast Guard 164.009 for incombustible materials
.


ExhaustGuardTM Standard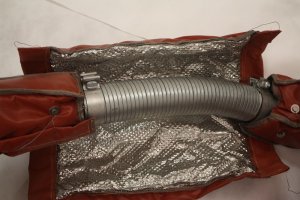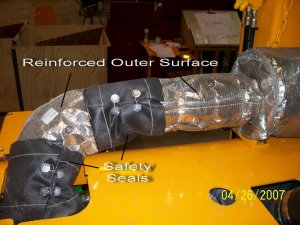 ExhaustGuardTM Mine
ExhaustGuardTM MineXT

Share this page.....
2/18 Click Image
To Open
Catalog Page