Aramid Polyamide Tadpole Gasket Seal Tape
High Temperature, Heat & Flame Resistant - High Strength
550°F / 287°C Continuous Exposure: Higher Intermittent

This high temperature, heat and flame resistant aramid fabric will withstand temperatures of 550°F / 287°C continuous exposure. The base fabric is high strength aramid. The core is available as aramid rope, stainless steel mesh rope or inconel mesh rope.

This material is very soft and pliable, making a conformable tadpole that seats well.

It is highly flexible and conformable.

KevlarŪ is a popular brand name of an Aramid polyamide material from DuPont. Our Aramid is not a DuPont product.
High-Temperature High Strength
Aramid Tadpole Gasket Tape Seal
- Tadpole GasketAvailable widths (Over-All Width):
1", 1.25", 1.50", 1.75",
2.0", 2.5" and 3.0".
- Tadpole Gasket Bulb diameters: 3/8, 1/2, 5/8, 3/4 and 1".
- Tadpole Gasket Standard lengths: 50 and 100 feet.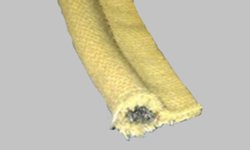 Part Number
TT-A


Click Image
To Open
Catalog Page
Share this page.....

3/18