High Temperature and Flame Resistant PTFE Coated Fiberglass Thread meeting MIL-Y-1140C & MIL-C-20079
---
High Temperature and Flame Resistant PTFE coated Fiberglass Thread meeting MIL-Y-1140C & MIL-C-20079
1000F Continuous
PTFE coated "E-Glass" fiberglass sewing thread is made from continuous "E" filament yarns, resulting in a strong, chemical resistant textile sewing thread.

The uniform PTFE coating completely encapsulates the thread, enhancing resistance to build-up of contaminates and repelling attack by most acids and alkalis. The smooth PTFE coating enhances the flexibility of the fiberglass yarn, making it suitable for many industrial applications and minimizing the tendency to kink, strip-back or break like other very high temperature threads.

Ideally suited to static applications (safety spray shields, gaskets, heat shields, etc…). Where continuous flexing and bending is required, we recommend our "Beta / BC" R753-series product.

D-12 Thread (part number FAB-TH-FG-12).

D-18 Thread (part number FAB-TH-FG-18 (Meets MIL-Y-1140C (Form 1, Class C) .

D-24 Thread (part number FAB-TH-FG-24 (Meets Meets MIL-C-20079 (Type 3, Class 3).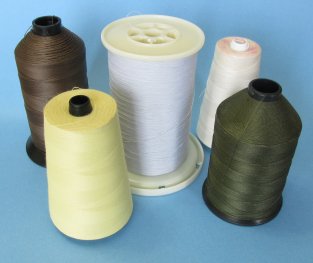 These threads are widely used in the fabrication and sewing of anything requiring high temperature capability. They are used in our own fabrication shops and we have years of experience in knowing what threads are used for which applications.

Available in nominal 2 pound spools, and smaller amounts may be purchased wound on standard or large bobbins for facilitating repairs in the field.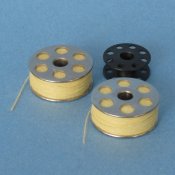 For field repairs or small fabrication jobs, customers can purchase bobbins of high temperature, heat and flame resistant thread.

12/18

Share this page..... Click Image
To Open
Catalog Page