Heavy Duty Commercial Sewing Machines
· Single and dual-needle new commercial sewing machines, available from stock. 1 year warranty. Available as a
machine head or complete with servo motor and table. 1 pallet contains two complete machines with tables.

· Compound feed (bottom feed dog, top walking foot & needle feed) handles very heavy multiple layer materials.

· Lock stitch, for fabricating new or repairing high temperature fabrications.

· Has a safety clutch to prevent machine damage if a jam occurs using high strength threads.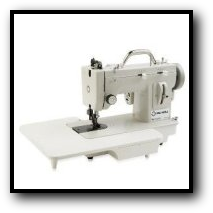 Heavy duty single needle straight lockstitch/zig-zag portable machine for in-field use


Single needle walking foot lockstitch sewing machine
Dual needle walking foot lockstitch sewing machine

Sewing machine table is included with machine. Includes servo motor with speed control, spool stand, work light.


Share this page.....
4/21