Firesleeve Silicone Rubber End Wrap Compression Tape
(meets Mil-i-46852 / A-A-59163 specifications)
High Temperature Heat Flame Resistant Silicone Rubber Self-fusing Compression Tape
500°F / 260°C Continuous Exposure:
Higher Intermittent

This high temperature, heat and flame resistant silicone rubber end-wrap compression tape is the perfect choice for sealing the ends of firesleeve, thereby preventing the firesleeve from wicking liquids such as water, oil or hydraulic fluid. This silicone tape can also be used to help secure other types of fiberglass and silica tapes over wires, cables, hoses, tube and pipe..

The tape has a blue stripe running down the centre as an aid to performing a standard 50% overlap when wrapping the tape around splices of hoses, cables and wires.

End Wrap Tape is self bonding to itself and other silicone rubber sleeve and tape, providing a waterproof/air tight end to the installation of firesleeve over hoses and cables.

This tape is available in 1" and 1 1/2" widths (25 & 37mm), with 36 feet of tape per roll. The tape is mounted on a backing film for easy unwinding.

These tapes also meet MIL-Spec specification A-A-59163 and Mil-I-46852.

Due to the natural compression properties of this tape it makes an excellent compression repair tape for metal or plastic piping to contain leaks.

· Silicone Rubber End Wrap Tape
· Available in Oxide-Red and Black
· Available in Type I & Type II
· Available in Triangular & Rectangular Profile
· Available in 1" and 1.5" Width
Part Number:
T-SRET-16-20-TOR
T-SRET-16-20-ROR
T-SRET-24-20-ROR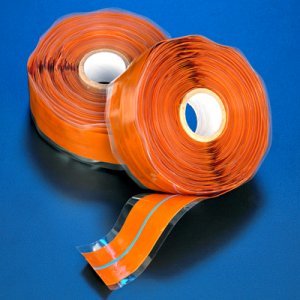 3/18


Share this page..... Click Image
To Open
Catalog Page