RG-48 Replacement Fiberglass Glass Cloth Fine-Weave Woven Tape with Silicone Adhesive - Masking Tape for Thermal Spray / Plasma Spray

High Temperature, Heat, Flame & Fire Resistant - Meets Mil-I-19166 specifications
500°F / 260°C Continuous Exposure: Higher Intermittent

FlameShieldä Insulation Tape, Electrical, High-Temperature, Glass Fiber, Pressure-Sensitive

This high temperature tape is heat, flame and fire resistant. Fiberglass (fibreglass or glass-fibre) fine-weave woven tape with silicone adhesive.

· 3000 volt dielectric strength.
· .007" (.177mm) thick.
· Tensile strength of 180 lbs/in (314 N/10mm).
· Elongation at break 5%,
· Adhesion 40oz/in (4.4N/10mm),
· Insulation 4.8x104 megohms.
· Maximum operating temperature is 260°C / 500°F (limit of the adhesive).
Fiberglass base material is rated to 1100°F / 592°C.
· Various widths from .125" to 8": roll length is 66 feet

Smooth, excellent adhesion, high temperature use, insulation class "H".

This tape is used to provide reinforcing insulation in electrical installations. Used on splices requiring more abrasion resistance and mechanical strength than can be provided by silicone tapes.

High Temperature
Fiberglass Fine-Weave Tape
with silicone adhesive
Benefits of our High-Temperature Fiberglass Heat Protection Products

Fiberglass offers excellent heat resistance, retaining more than half of its room temperature tensile strength at 675°F / 357°C, and more than 25% at 875°F / 468°C. It begins to soften at 1500°F / 815°C and melts near 2050°F / 1121°C. Non-combustible and excellent thermal conductivity to dissipate hot spots; high resistance to chemicals and unaffected by UV light.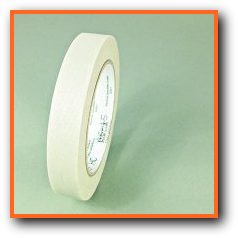 Part Number
T-FG-SA-RG48 Click Image
To Open
Catalog Page


Share this page.....

12/18