AA59163-1I0020 / AA59163-1II0020 / AA59163-1I0030 / AA59163-1II0030 / AA59163-1I0040 / AA59163-1II0040
MIL Specification Silicone Rubber Self Fusing Electrical Insulation Tapes
Class 1 Type I and Type II / Class 2 Type I and Type II Silicone Self Fusing Tapes
FlameShieldä rectangular and triangular profile silicone rubber self-fusing compression tapes, part numbers , meeting
A-A-59163 and Mil-I-46852 specifications, and are used for a variety of critical electrical wiring and cable splicing and protection jobs. Especially suited for aviation and marine environments, as well as outdoor weathering environments.

Part numbers for Class 1 Type I includes: AA59163-1I0010; AA59163-1I0020; AA59163-1I0030; A59163-1I0040.

Part numbers for Class 1 Type II includes: AA59163-1II0020; AA59163-1II030; AA59163-1II0040

Part numbers for Class 2 Type IM includes: AA59163-2IM0010; AA59163-2IM0020; AA59163-2IM0030; A59163-2IM0040.

Part numbers for Class 2 Type IIM includes: AA59163-2IIM0020; AA59163-2IIM030; AA59163-2IIM0040

The tape has no adhesive, but sticks to itself (self-fuses or self amalgamating) when stretched and wrapped onto itself. The tapes starts curing within minutes, and after several hours cannot be unwound or removed without using a sharp knife or blade. This tape makes a waterproof, weatherproof and air tight protection.

This tape is available in almost any color, but oxide-red and black are the most common. The triangular tape has a guideline stripe in the center which aids in achieving a 50% spiral wrap. Triangular levelwrap tapes provide a smooth surface on spiral wrapping, preventing the tape wrap area from snagging when pulling a wire or cable through a bundle or over objects or openings.

FlameShieldä tapes meeting A-A-59163 and Mil-I-46852 provide superior electrical insulation with a minimum of 300 volts per mil (.001") of tape thickness at 365°F / 180°C. A 20mil tape therefore provides 6000 volts per wrap of insulation value.

This tape is also used to wrap hydraulic connections and to make vibration resistant bumpers and spacers for wiring, cable, hose, pipes and lines. This tape is used to wrap and hold insulation in place on hot air ducts.

CID AA-59163 Silicone Tape
Class 1 Type I & Type II
Class 2 Type I & Type II
· Resists moisture, oxygen, UV, ozone and corona
· Conforms smoothly around irregular forms
· No adhesive or sticky residue like other tapes
· Flame retardant version meets FAR 25.853
Class 1
Part Numbers
AA59163-1I0010
AA59163-1II0010

AA59163-1I0020
AA59163-1II0020

AA59163-1I0030
AA59163-1II0030

AA59163-1I0040
AA59163-1II0040

06/17


Share this page..... Click Image
To Open
Catalog Page


Class2
Part Numbers
AA59163-2IM0250
AA59163-2IIM0250

AA59163-2IM0500
AA59163-2IIM0500

AA59163-2IM0750
AA59163-2IIM0750

AA59163-2IM1000
AA59163-2IIM1000 Click Image
To Open
Catalog Page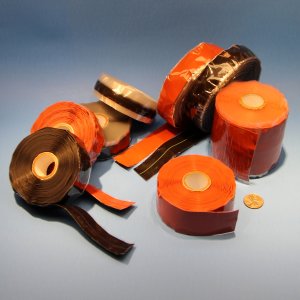 Our A-A-59163 and Mil-I-46852 tapes can be constructed to meet the following specifications:

· McDonnel Douglas / Boeing DMS-2186 Type II
· McDonnell Douglas Helicopter HS5215
· General Dynamics P5384
· Martin Marietta MMS 517-6 Type II,
· McDonnell Douglas P.S. 17115,
· ST0130RB0078 Type I,
· 3003M70P01,
· MS70T09-S,
· WS1363A,
· Premier Farnell 810112,
· Safe Flight 59562-5.
· NSN-5970-00-949-4846
· NSN-5970-00-955-9976
· NSN 5970-00-480-1329

· Equivalent to Type I Tapes with the following part numbers: 56756, 57063, 57090, 50005, 50006, 57161, 50022, 50039, 57806, 612-1, 615-.75, 615-1, 620-.5, 620-.75, 620-1, 620-1.25, 630-.5, 630-1

· Equivalent to Type II Tapes with the following part numbers: 50014, 50215, 50361, 53304, 50573, 56517, 56265, 600R and 600T levelwrap series; 602-1, 603-1, 604-1, 604-1.25, 605-1.25, 605-1.5, 606-1.5, 605-1, 606-1, 607-1